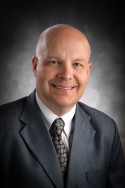 Dr. Thornton initiated the first freestanding proton therapy center in the United States with the development of the Midwest Proton Radiotherapy Institute in collaboration with Indiana University and served as the main
consultant from its beginning stages in 1997 to first patient treatment in 2003. Prior to that, he served as the Director of the Central Nervous System and Stereotactic Radiosurgery Program at the Harvard Cyclotron
Laboratory (HCL) in Boston, Massachusetts, where he treated patients with proton therapy from 1991 through 2000.
Dr. Thornton is a native of Washington, DC, and received his medical degree from the University of Virginia in 1981; he secured residency training in radiation oncology at the Ontario Cancer Institute, Princess Margaret Hospital, Ontario, Canada. His academic appointments include Assistant Professor, Harvard Medical School, MGH, Department Of Radiation Oncology; Instructor, University Of Michigan Medical Center, Department of Radiation Oncology, Ann Arbor; and instructor, University of Michigan Medical Center, Department of Otolaryngology.
Dr. Thornton has served on many national committees, including the Southwest Oncology Group(SWOG) Head and Neck Tumor Committee; the Veterans Administration Cooperative Study Group for Advanced Larynx Disease; the Partical Therapy Co-operative Group(PTCOG); and the Veterans Administration Cooperative Study Group for Adjuvant Chemotherapy for Organ Preservation in Advanced Head and Neck Cancer. He has designed or helped to develop numerous clinical protocols, mainly concerning treatment of center nervous system and head and neck malignancies, and has authored or co-authored numerous articals for peer-reviewd and scientific journals and publications, including contributing authorship in seven books on radiosurgery and radiation therapy.
Dr. Thornton's work currently focuses on the benefits of proton therapy in extending life and health. He enjoys collaborating with physicians and researchers, other proton therapy centers, and healthcare organizations in research trials and clinical protocols to explore models of the care and treatment of patients with protons.
He enjoys nothing more than working on cars and planes with his daughter in his free time.